Best Contact Lenses for Daily Use
We present a list that includes the 10 best contact lenses available on the market today. It is worth checking what lenses to choose and what makes the right lenses stand out before buying your first replacement glasses. Our lens ranking is a proposal that will work for both novice users and those who are looking for an alternative to the contact lenses worn so far.
10 Best Contact Lenses for Dry Eyes 2023
1. Johnson & Johnson Acuvue Oasys Hydraclear Plus 6 pcs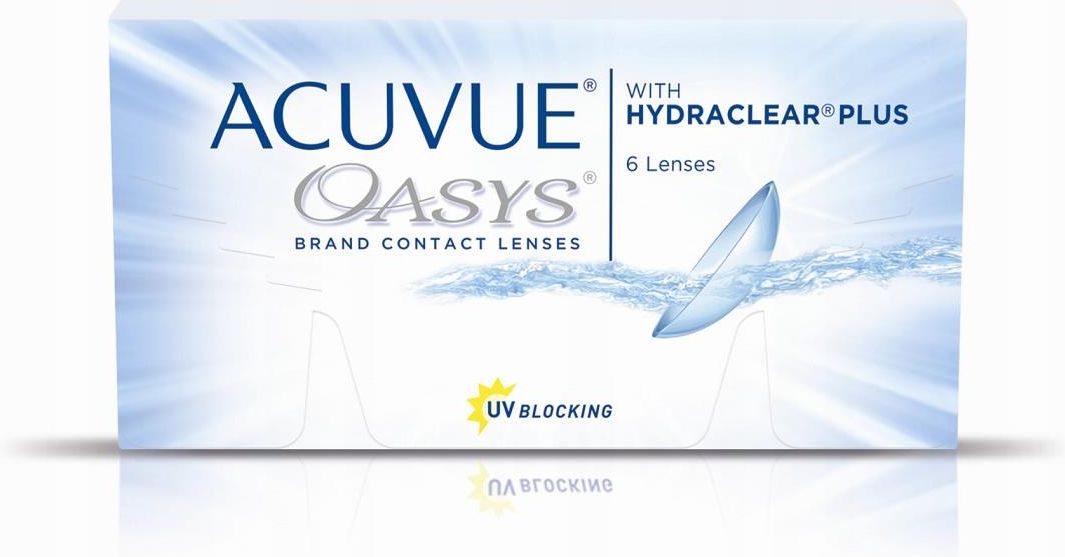 JOHNSON & JOHNSON ACUVUE OASYS HYDRACLEAR PLUS 6 PCS is undoubtedly one of the best contact lenses with the highest protection against UV radiation. Class I product provides the highest safety of all contact lenses available on the market today, absorbing 99% of harmful radiation.
It provides hydration and freshness even in unfavorable environmental conditions. The product recommended in our ranking is excellent contact lenses that will work well both for long hours spent in front of a computer screen, in air-conditioned rooms, as well as those where dry central heating air or smoke may irritate the eyes.
The lenses are made with the use of a modern, patented HYDRACLEAR ™ technology that allows the combination of a material that provides the right oxygen conditions with a moisturizing agent.
The ultra-smooth contact lens is recommended, especially for people who experience dry eyes. The recommended wearing time is 14 days in the daytime mode or seven days in the extended mode – no download at night. Curvature – 8.4 mm. Diameter – 14mm.
2. Bausch & Lomb Soflens 59 comfort 6 pcs
BAUSCH & LOMB SOFLENS 59 COMFORT 6 PCS is the best monthly contact lens designed for a daily replacement that you can use. Made of Hilafilcon B material, they are resistant to the accumulation of protein deposits and high hydration.
Comfortable to use lenses by BAUSCH & LOMB have a special structure that ensures perfect visual acuity and reduces the interaction between the lens and the eyelid when the eye blinks.
The soft edges of the lens and a special, smooth material guarantee the same comfort of putting on and wearing until the last day of use. The lens diameter is 14.2mm, and the curvature radius is 8.6mm. BAUSCH & LOMB products recommended by our lens ranking are suitable for daily wear (removed at night) for a maximum of one month.
3. Cooper Vision Biofinity 6 pcs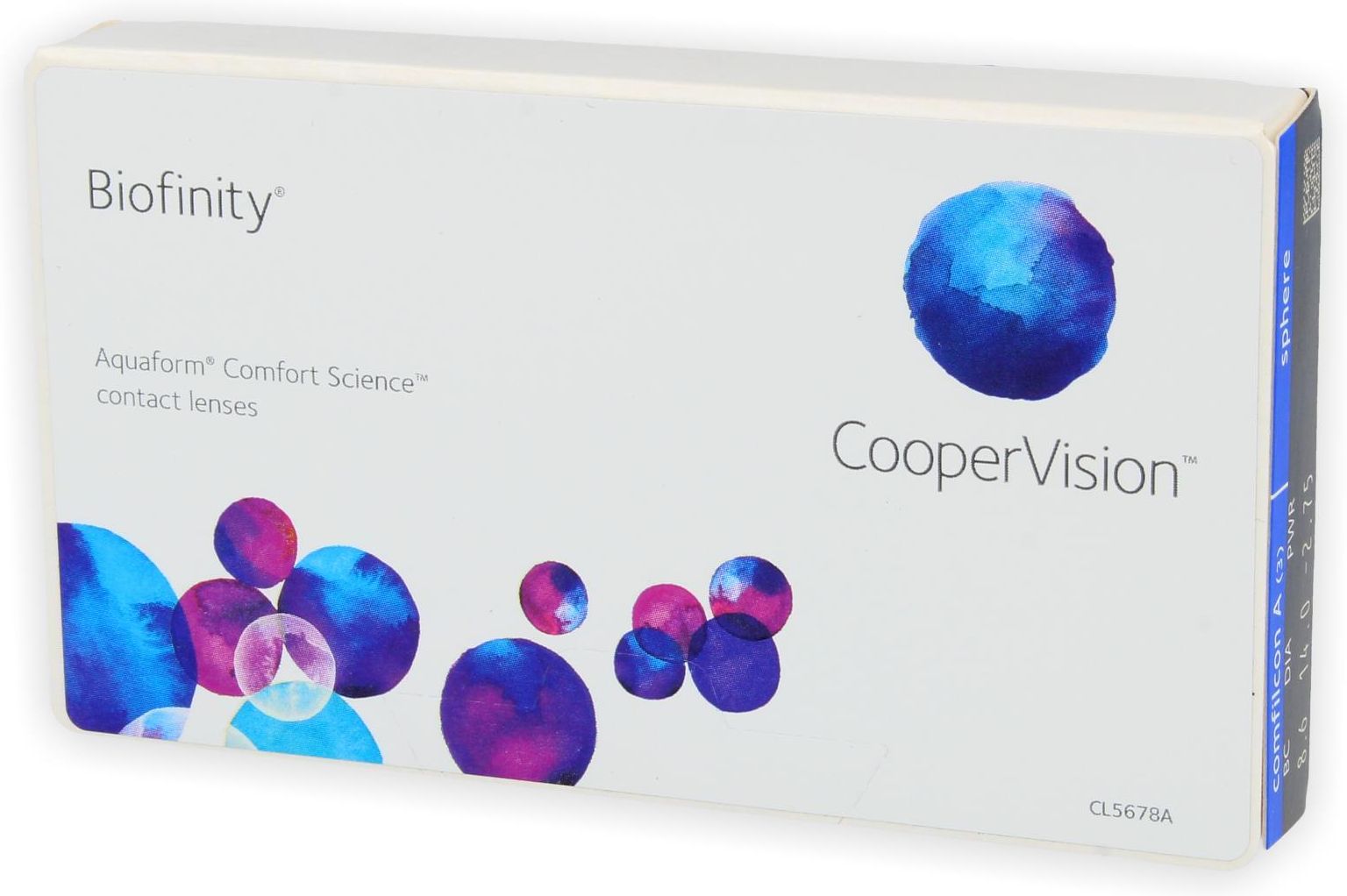 COOPER VISION BIOFINITY 6 PCS are excellent silicone hydrogel lenses, intended for wearing in extended mode. The innovative material technology of Aquaform Comfort Science used in production makes the lenses flexible, soft, and well-moisturized.
Silicone macromers keep water in the lens, and evenly distributed over its entire surface, and it provides excellent eye hydration. The lenses are designed to be worn continuously without the need to remove them at night. They are oxygen permeable and are especially recommended for people suffering from tear film disorders.
The COOPER VISION BIOFINITY product recommended in our ranking provides the highest wearing comfort while maintaining maximum visual acuity. The lenses can be used on a daily or extended basis throughout the month. Curvature – 8.6 mm.
4. Alcon Air Optix Aqua 6 pcs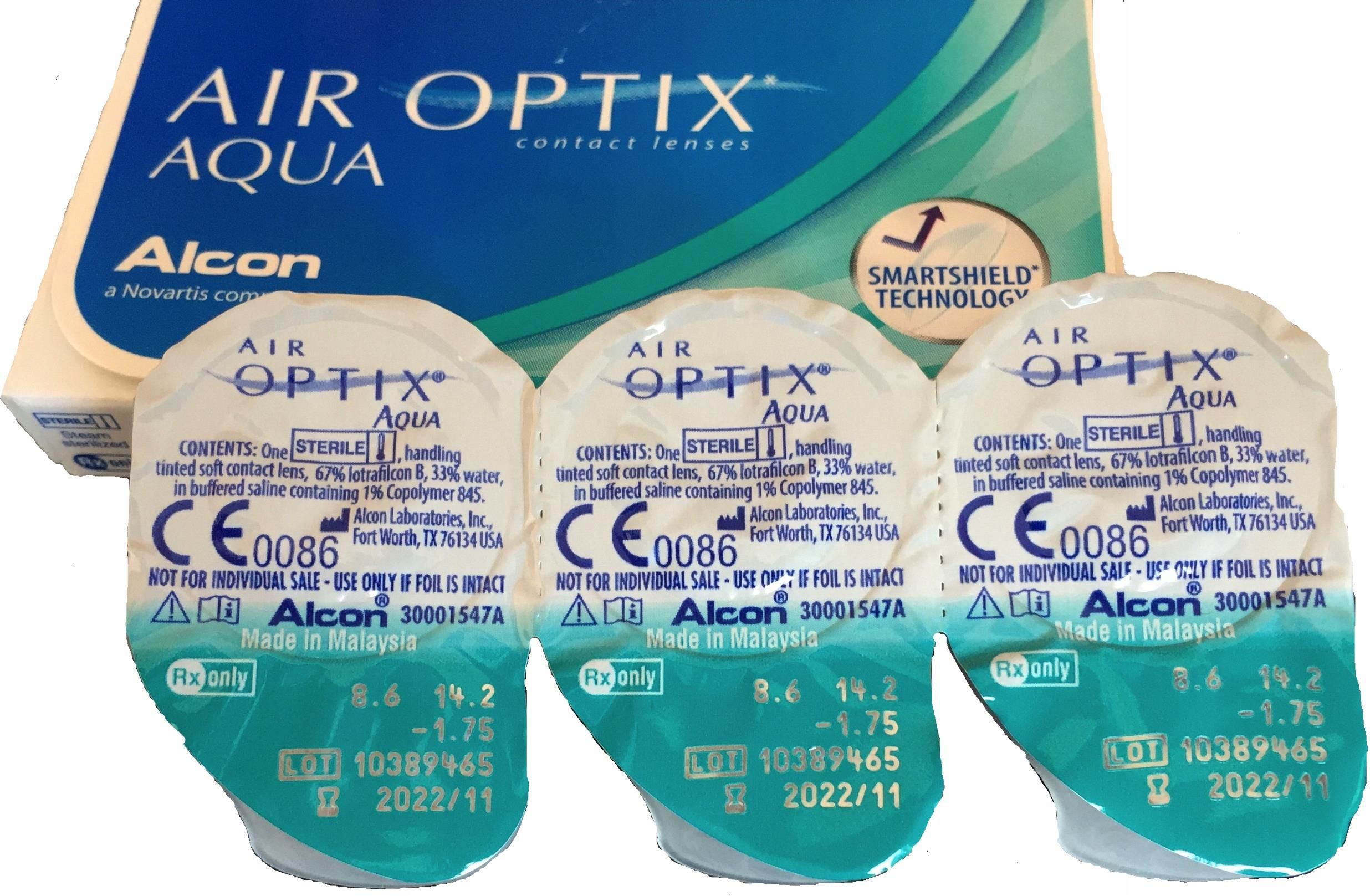 ALCON AIR OPTIX AQUA 6 PCS is the best monthly contact lens that provides the eyes with up to 5 times more oxygen than traditional hydrogel lenses. Air Optix breathable lenses have a curvature of 8.6mm and a diameter of 14.2mm.
The product recommended for hyperopia or myopia is made with the use of SmartShield technology, which prevents the build-up of dirt and ensures the comfortable use of the lenses every day.
High oxygen permeability and good hydration are the advantages that will ensure that throughout the month of use, the lenses will be equally comfortable to put on and wear, and have the best visual acuity.
The innovative lens coating prevents the accumulation of proteins and lipids, which are components of tears, as well as external contamination, which often gets into the eye when putting on or removing lenses. The model presented in our ranking is silicone-hydrogel lenses, thanks to which the eyes always look fresh and healthy.
5. CooperVision Biofinity 3 pcs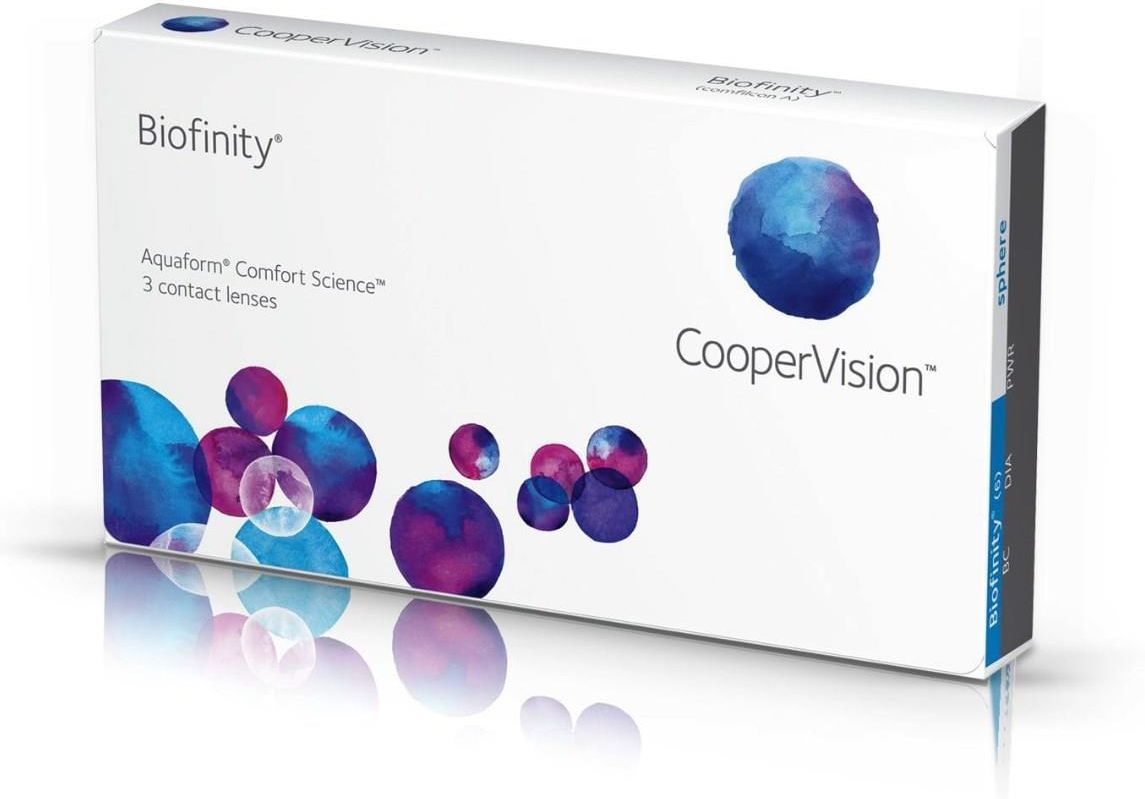 CooperVision BIOFINITY 3 PCS are very good monthly silicone hydrogel lenses. Manufactured with the use of AQUAFORM material technology, they perfectly permeate oxygen and provide constant, natural, and even hydration throughout the lens.
The product recommended in our ranking are lenses designed for continuous wear for 29 nights. They have a light blue color and 48% hydration. Their diameter is 14mm, and their curvature is 8.6mm.
Good breathability of CooperVision lenses makes the user feel comfortable and well-hydrated throughout the month of use. Flexible and soft material and the specially adapted shape of the lenses make it easier to put them on. During constant wear, it reduces the friction of the lenses under the eyelids. Lenses worn in the day and night mode are recommended for both myopia and hyperopia. The package contains three pieces.
6. Alcon Air Optix Plus HydraGlyde 6 pcs.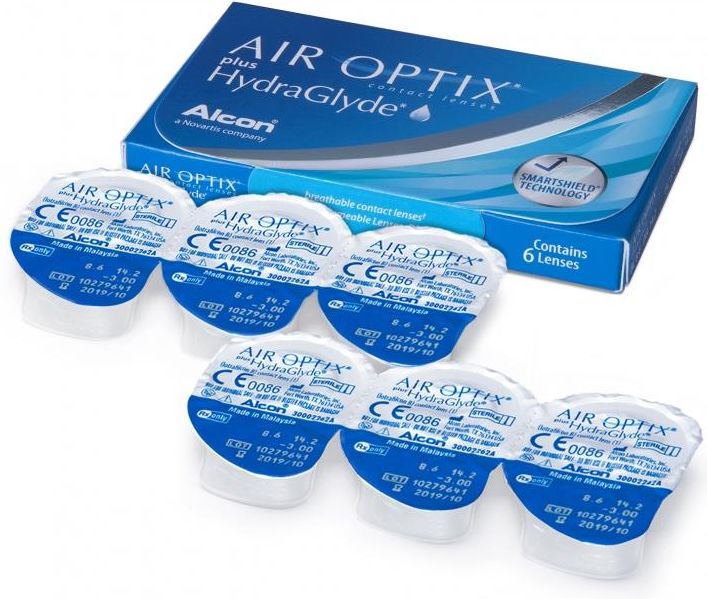 ALCON AIR OPTIX PLUS HYDRAGLYDE 6 PCS is the best contact lens that provides exceptional comfort of use throughout the month. Innovative technologies developed by ALCON guarantee very good lens lubrication and high oxygen permeability.
The smooth surface of the lenses is adequately protected against the attraction of dirt and impurities. The lenses present in our ranking are recommended, especially for people with a tendency to dry eyes, as well as for those with an active lifestyle.
Suitable for both short-sighted and farsighted people, they will prove to be the first lenses in life, as well as for people who continuously wear them.
7. Johnson & Johnson Acuvue 1-Day TruEye 30 pcs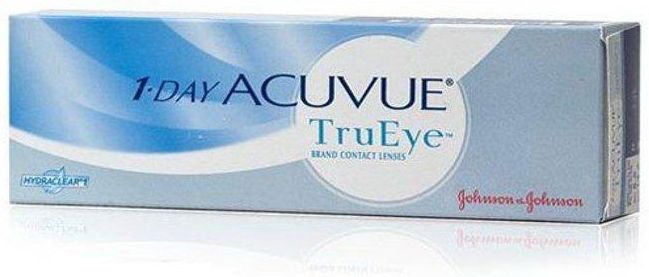 JOHNSON & JOHNSON ACUVUE 1-DAY TRUEYE 30 PCS are the best daily contact lenses made of high-quality silicone (Narafilcon A). They provide the highest protection against UV rays and are distinguished by exceptional smoothness.
They are light in color and have 46% hydration. The diameter of the lenses is 14.2 mm, and the radius of curvature is 8.5 mm. The innovative HYDRACLEAR PLUS technology ensures excellent oxygen permeability. The lenses are intended for daily wear. Maximum comfort is guaranteed by perfect hydration of the lens surface, reducing the feeling of tiredness and dryness in the eye.
The JOHNSON & JOHNSON ACUVUE 1-DAY TRUEYE lenses presented in our ranking are equipped with a powerful ultraviolet radiation filter, guaranteeing protection of the eyes at the level of 99% in the case of UVB radiation and over 90% against UVA rays.
8. Bausch & Lomb SofLens Daily Disposable 30 pcs
BAUSCH & LOMB SOFLENS DAILY DISPOSABLE 30 PCS are very good day spherical lenses. Recommended for short-sighted and farsighted people, they have power from -6.5 to +9.00, a curvature of 8.6 mm, and a diameter of 14.2 mm.
The lens is hydrated at 59%. High Definition Optics technology was used in the production, reducing the halo effect and the phenomenon of image blur. The Comfort Moist ™ technology made it possible to produce an exceptionally thin lens with very good hydration and softness.
This ensures that the lenses are extremely comfortable to wear throughout the day. The BAUSCH & LOMB product recommended in our ranking guarantees clear vision in any environment and at any time of the day.
The easy-to-use daily SOFLENS DAILY DISPOSABLE lenses do not need to be stored in a special liquid. After use, they should be disposed of as waste.
9. DAILIES AquaComfort Plus -3 One-day lenses 30 pcs

DAILIES AQUA COMFORT PLUS -3 ONE DAY LENSES 30 PCS ensures comfortable wearing and good eye hydration throughout the day. The product is available in a version with positive and negative powers, so it helps both farsighted and short-sighted people. One-day lenses do not require constant care.
After use, they should be disposed of as waste. The lenses presented in our ranking guarantee all-day freshness and good visual acuity, and very good hydration of their surface, preventing the eye from drying out.
You can use them even during many hours of work in front of a computer screen or in conditions of smoke and dry air that are unfavorable to the eyes with central heating. Innovative technology makes the moisturizing system activate with every blink of the eyelids. The lens curvature is 8.7 mm, and the diameter is 14 mm.
10. Alcon Dailies Total 1 90 pcs.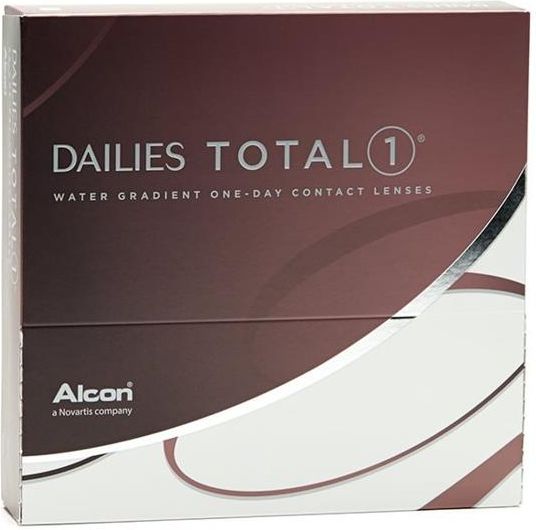 ALCON DAILIES TOTAL 1 90 PCS are the best one-day contact lenses that provide adequate oxygen to the eyes (oxygen permeability is Dk / t = 156) and will not irritate them. Thanks to the innovative design, the ALCON lenses presented in our ranking have a hydration gradient (from 33% to 80%) and guarantee adequate hydration.
They ensure high comfort of use even in conditions unfavorable to eyesight. They prevent the effects of dry eye and corneal irritation. Lenses also contain phosphatidylcholine, a substance that is found in human tears.
The curvature of the presented lenses is 8.5 mm, and the diameter is 14.1 mm. Extremely smooth and soft for comfortable putting on and taking off. ALCON single-day breathable lenses do not need to be stored in a special liquid.
How to Choose Daily-Wear Contact Lenses
When we are looking for our first contact lenses, we get to know the market, and we are surprised to find there is an extremely wide range of modern optical products. What lenses to buy, which ones are the best, and are cheap lenses worth our attention?
Right contact lenses should not only have the correct parameters that will improve our eyesight but also provide adequate hydration, preventing the so-called effect—of dry eye.
Good material from which contact lenses are made plays a vital role. The best contact lenses have a strong filter against ultraviolet rays, guaranteeing a high level of eye protection against both UVB and UVA rays.
Many hours of work in front of a computer screen require taking care of eyesight, and if we use contact lenses, we should choose those that are especially predisposed to it. Clear vision at any time of the day and in difficult environmental conditions are the most important features of good contact lenses.
What are the Types of Contact Lenses you should wear
Among the many products, you can find contact lenses for one-day use, as well as monthly ones, which we can wear without taking off for 30 days. Which lenses to choose, hard organic glass or soft silicone hydrogel or hydrogel?
It is worth noting that the best lenses made of soft materials are much more permeable to oxygen. Such a breathable surface is also often smooth and does not irritate the eyelids when blinking, and does not accumulate dirt and deposits from both natural tears and external pollution.
Daily lenses do not need to be stored in special fluids, unlike reusable lenses, which must be disinfected before reinserting. Two-week or monthly lenses can only be worn during the day or continuously without removing them at night. After the expiration date, they should be disposed of as waste. Due to their function, we can buy good corrective lenses, and among:
spherical for farsighted and short-sighted
toric, recommended for astigmatism
multifocal, for the correction of changes related to old age
Cosmetic lenses correct the appearance of the eyes can change the color of the iris, and optically reduce the pupil. Treatment lenses are helpful in the case of eye diseases, like dressings and drug carriers, and in the case of corneal injuries, they provide protection against harmful external factors.