Scary Halloween Door Decorations 2021
Less and less is missing for the scariest and spooky night of the year: the Halloween party. It is the perfect event to transform ourselves into that special character that scared and attracted us in equal parts when we were little. And for everything to be perfect on the Night of the Dead, it is best to start preparing everything as soon as possible. Today we leave you some great ideas for scary Halloween Door Decorations in 2021.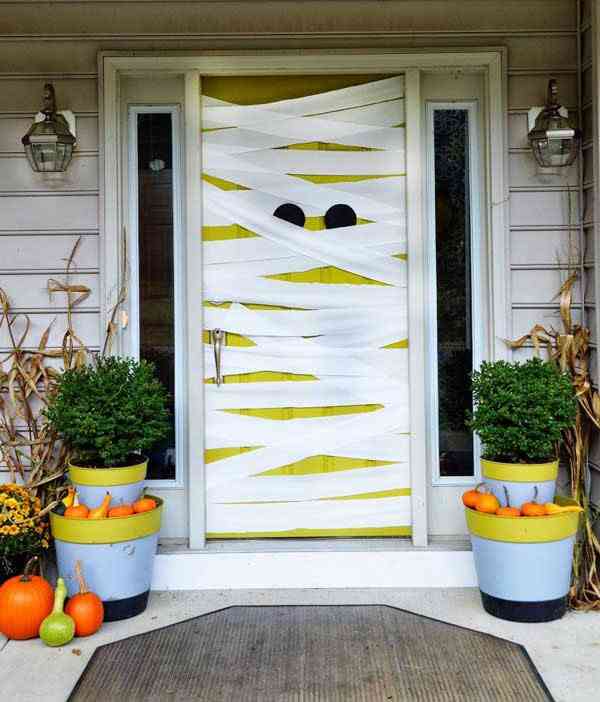 Source: Home BNC
Those of you who find the Halloween party one of the funniest events of the year are going to love these great suggestions. They are perfect for decorating doors and windows on Halloween. And it is that decorating the front door of our house is, without a doubt, a declaration of intentions.
So, if you are going to have a scary party,  you can not stop taking a look at these simple and fun ways to decorate doors and windows on Halloween. Surely you are already thinking about the costume that you are going to wear, and you will already be looking for the horrifying but succulent recipes that you are going to prepare for your guests. Nor should you forget some details to decorate and illuminate your house on Halloween.
Well, these original tips will round off a scary decoration. As you are going to see, you will find ideas for all tastes, whether you want a very elaborate result or if you are looking for some special details. Take a look and you will see.
A simple and elegant effect for doors and windows on Halloween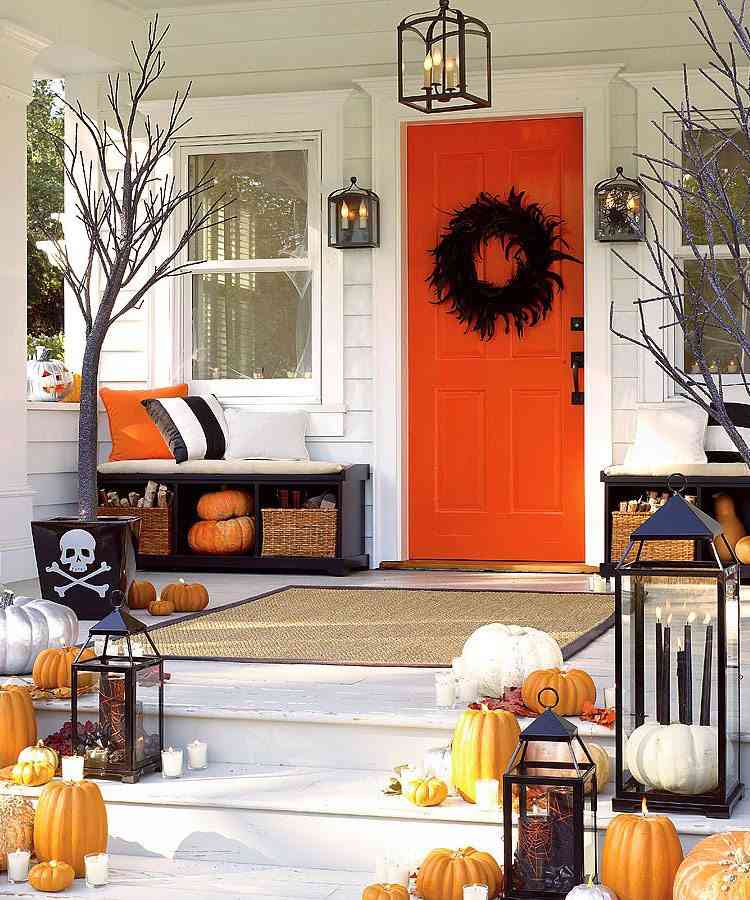 Source: Gravina's
Decorating your house for the Halloween party doesn't necessarily mean you're cramming it with monsters, blood, spider webs, and bats. As often happens in decoration, moderation, and elegance are usually the keys to success.
So check out how this pretty porch has been decorated for Halloween. The orange door indeed puts the main color note (you know that it is one of the colors that define this terrifying party). Even if we don't decide to paint our door for the event, we can always come up with some ideas to reproduce the scene.
For example, the prominence given to pumpkins seems very successful, one of the elements that cannot be missing at parties and door and window decorations on Halloween. So get down to work and start looking for pumpkins of all sizes and shapes: natural, plastic, with candles inside …
The lanterns with spiders, the skull, and the black crown on the door put the note of terror in a very autumnal and somewhat rustic decoration. Like?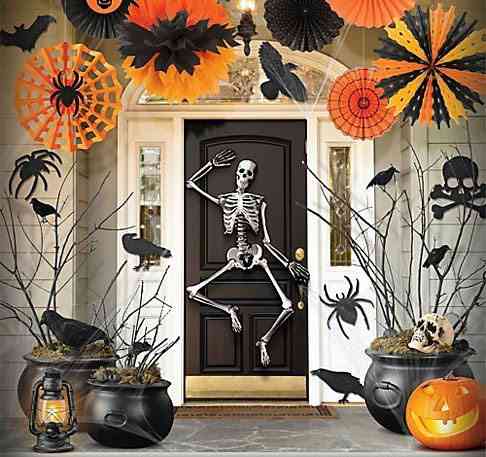 Source: Gravina's
And if you fancy a more gloomy and ghostly decoration, you can always opt for a good skeleton and complete the environment with crows, spiders, and skulls.
DIY Ideas for the Front Door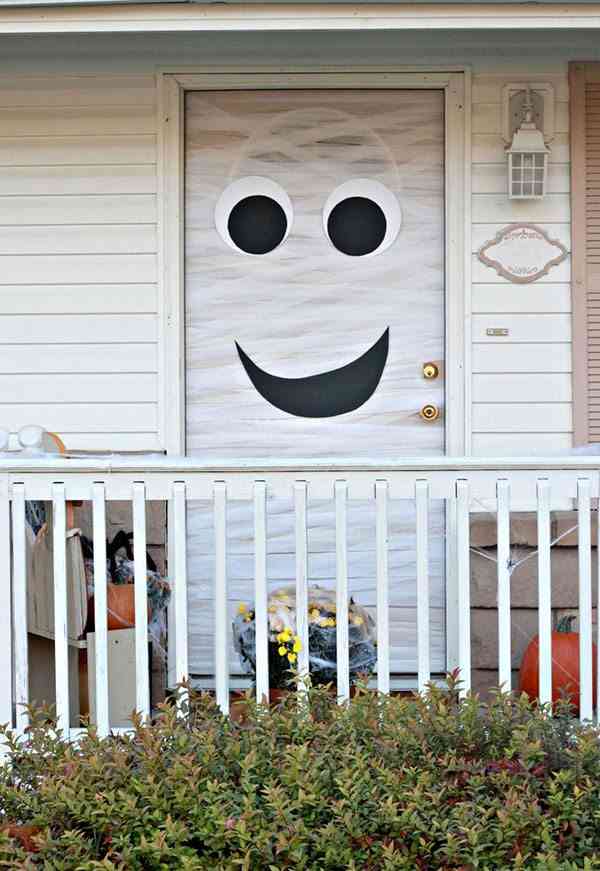 Source: Home BNC
Decorating the house for this event should not be a headache for you, nor a blow to your pocket. You can always find great DIY ideas so you can decorate your doors and windows yourself on Halloween. How are you that we show you now?
Some colored cards, some rolls of toilet paper, and a little imagination. You do not need more to leave the door of your house decorated for the occasion. You can choose between the mummy effect or the monster style.
Source: Gravina's
Draw some big cardboard eyes and roll the door from top to bottom with toilet paper as bandages. Or line it with kraft paper, then cut out the mouth and eyes. You can put into practice any idea that occurs to you and leave your door more or less dark or friendly, depending on your tastes or the circumstances.
Don't Forget the Windows
Source: Quality Home Designs
Like the doors, the windows also deserve a detail to keep up with the event. You can go for black vinyl that shows terrible scenes that seem to be happening inside the house. Or choose a nice skeleton like the one in the photo.
And if you don't want to be gluing vinyl, you can draw the scenes yourself on black cardboard and then fasten them inside with a little adhesive tape. It couldn't be easier.
If drawing is not your thing, you can always download some images from the internet and print and enlarge them with a photocopier. Simple, effective, and a lot of fun.
What do we do with the Garage Door?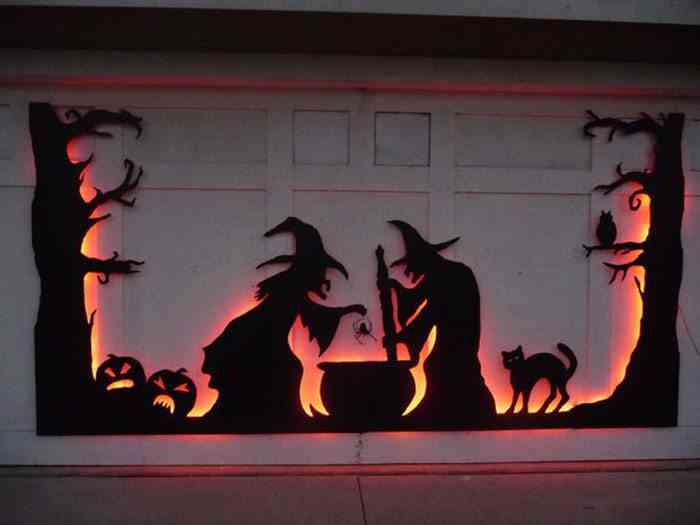 Source: Instructables
Well, decorate it, of course! This idea seemed great to me. You only need some good-sized cardboard (or you can join smaller ones), black paint, and one or two strips of orange led lights. If you are a handyman and you are passionate about DIY you can do the work in plywood.
See More: Best Halloween Decorations in 2021
Interested In: Best Halloween Products to Buy in 2021